Let's start with what it's not! The most common misconception is that Pardot is just an email tool, but this couldn't be further from the truth - in reality, it's a powerful and comprehensive Marketing Automation solution.
What is Pardot?
Pardot's strengths are in its Lead Generation and Lead Nurturing capabilities. It's is one of the leading solutions for B2B Marketers to attract, nurture, convert, retain and upsell to their target market, and is in the Leader quadrant in the G2 Grid® for Marketing Automation Software.
Pardot is used across the world, and its interface is available in English, French, German, Spanish and Japanese. Pardot tracking code is live on over 30,000 websites according to Builtwith.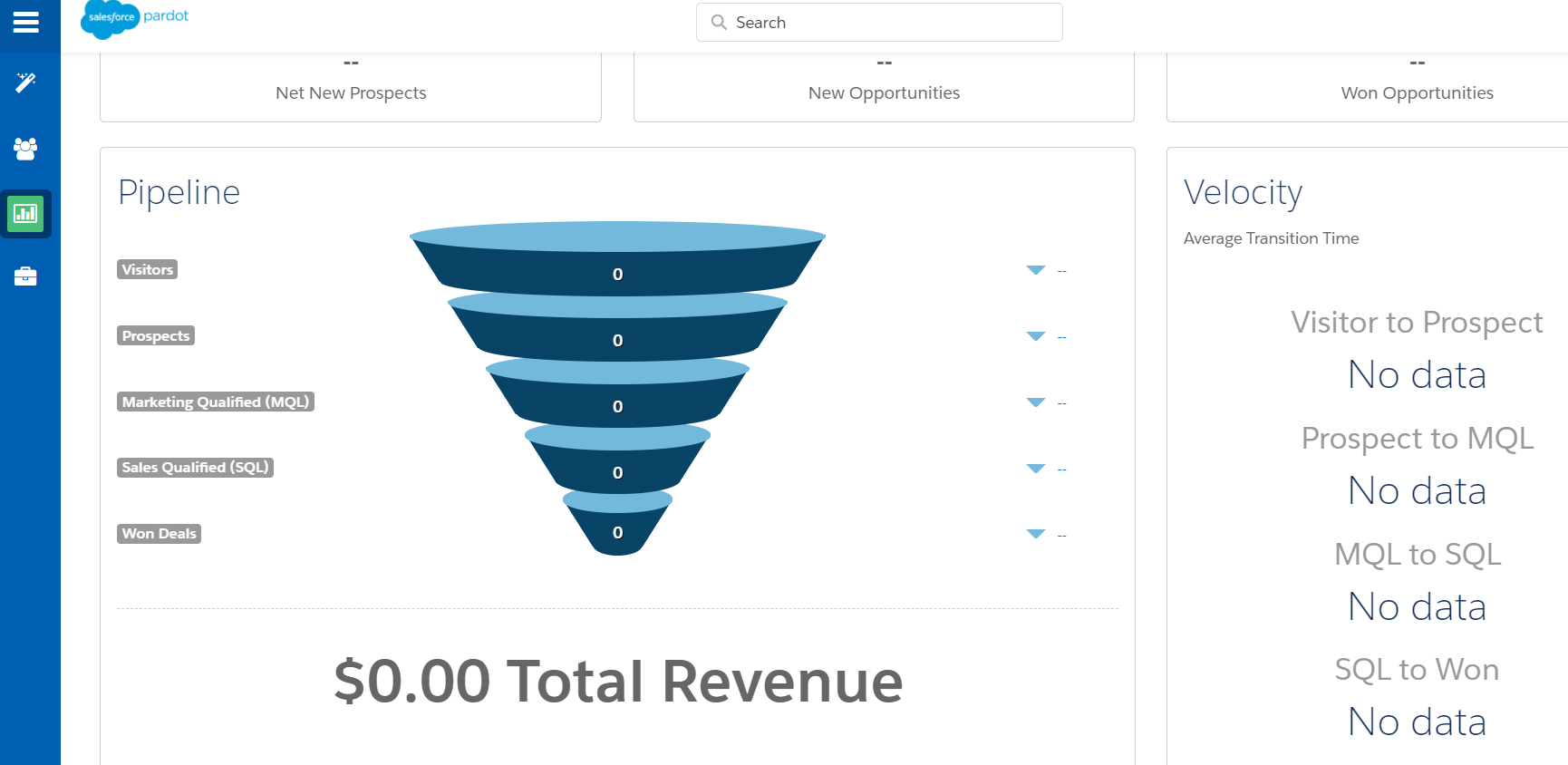 Many organisations use Pardot as their central point for Marketing tracking, including bringing in prospect interactions from across the digital marketing mix, including integrating with Google Adwords, Events and Webinar tools and social media platforms.
What is Marketing Automation?
Marketing Automation is a type of software platform which enables organisations to track and control marketing touchpoints right across the buying cycle, from the first click on your website as an anonymous visitor, right through to onboarding and retention. In summary, Marketing Automation is a single tool which replaces disparate stacks of siloed Marketing Technologies such as web forms, landing pages and email sending, to build a 360 degree view of the customer in one system and achieve revenue goals.
One of the core pillars of Marketing Automation Platforms is the capability to deliver personalised email marketing programmes to the right decision makers at the right time. In fact, according to a McKinsey & Co study, email marketing is still 40 times more effective at reaching your target client than Twitter or Facebook.
Where did Pardot originate?
Pardot was founded in 2006 by former Duke University classmates Adam Blitzer and David Cummings as a SMB alternative to Eloqua for Marketing Automation. Whilst their company was called Pardot, the product itself was originally called "Prospect Insight", which is where the "pi" subdomain to log into Pardot at pi.pardot.com originates from. The term 'Prospect' continues to be used today in Pardot, in reference to a record in the database, which could be either a potential customer or an existing customer.
The name Pardot is a verb from the Latvian language and means "to market" or "to sell." You may also hear the word pronounced a number of different ways depending on where you are in the world, including "Par-DOT" or "Par-DOUGH". However, if you ask the official Pardot team, they'll point you toward "Par-DOT" as the 'correct' pronounciation.
Pardot was acquired in late 2012 by Salesforce, at a time when Salesforce was looking to ramp up its marketing competencies - they went on to also purchase Marketing Cloud in 2013 to cover the B2C/Enterprise side of the market.
What are the benefits of Pardot?
High quality Leads - One of the biggest pain points for most B2B Marketing teams is the challenge of meeting the demands of Sales teams for Leads which are ready to buy. Pardot's Lead Qualification tools, including Lead Scoring and Grading, ensure that you can pass across only the Prospects which fit your ideal customer persona, and with which your marketing has created meaningful connections.
Marketing Campaign ROI Measurement - Pardot's powerful reporting offers marketers the ability to easily track campaign performance and their impact on the sales pipeline. Pardot's reporting centers on giving full visibility of the return on investment of your marketing initiatives from a first touchpoint perspective, i.e. how many prospects you drive to the top of the Sales Funnel. Pardot's strong integration with Salesforce enables multi-touch attribution using Salesforce Campaign Reports.
Einstein AI - Pardot Einstein introduces the power of Artificial Intelligence to the Marketing Department. The Lead Management capabilities of Pardot Einstein give insights into Lead prioritisation through Einstein Lead Score and Einstein Behaviour Score, tell your reps which Prospects are similar to successfully closed clients, and which Prospects are demonstrating behaviour which indicates they're ready to buy. Pardot Campaign Insights provides AI-driven feedback on the performance of your marketing campaigns, and marketing effectiveness, either around the engagement with a particular initiative, or segment-specific insights.
What functionality does Pardot include?
Email Marketing - This is a core module, which provides functionality through List Emails (sent to a defined list of recipients), Autoresponders (automatically sent to prospects when they complete certain actions), and One-to-One emails (enabling Sales to send tracked and personalised messages through Salesforce).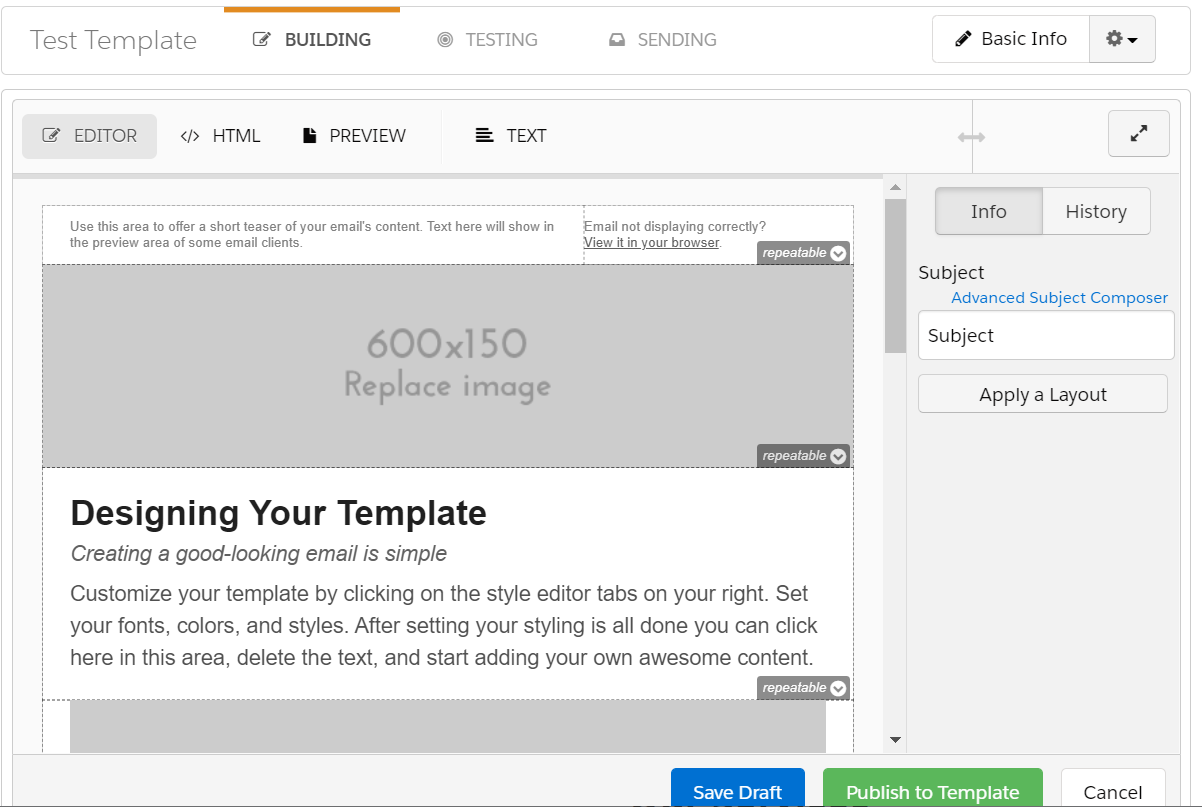 Engagement Studio - Pardot's 'star' feature to send prospects on automated lead nurturing journeys based on what we know about a prospect and send them targeted messages based on what we know about them, and how they interact with our emails and landing pages. Engagement Studio can be used for Lead nurture, onboarding, event invites, renewals, churn prevention and much more to amplify marketing efforts.
Forms - A vital element of Marketing Automation is being able to capture web form submissions from prospects, either to generate new leads, or to enhance what we know about existing Leads or Customers with Progressive Profiling, to capture more information about records in our database as they complete multiple web forms, for example when they register for events or webinars, request information, or download white papers.
Landing Pages - Many Pardot users already have a CMS to manage their own website, however find that launching campaign-specific landing pages with different layouts and modules can be difficult. Pardot's Landing Page builder enables you to quickly launch branded webpages for your campaigns based on predefined responsive templates without needing a Web developer on hand.
Segmentation - an important part of using Pardot is sending the right messages to the right recipients at the right time. Pardot includes two main types of segmentation through its Static List and Dynamic List features. Static Lists are typically built through behavioural triggers, such as the completion of forms, or clicks on certain links, or manually by a Pardot user. Dynamic Lists are a segmentation superstar, being built automatically by Pardot based on rule-based criteria for which prospects should be targeted based on what we know about them, even bringing in Lead and Contact information from Sales Cloud - this enables highly targeted email campaigns.
Personalisation - A study by Experian showed that personalised messaging improves email transaction rates by 6x (https://www.experianplc.com/media/news/2014/experian-marketing-services-study-finds-personalized-emails-generate-six/), and it's simple to do this in Pardot by referencing field values from your prospect records using Handlebars Merge Fields in email templates, list and one-to-one emails, dynamic content, landing pages, forms, and user signatures. A more advanced form of personalisation, Dynamic Content, enables marketers to have smarter engagement with prospects by replacing whole blocks of HTML in emails, forms, landing pages, and even your own website based on what information you hold in your prospect database.
Automation - Wouldn't it be great if some marketing tasks could be automated to let your team focus on work which really moves the needle? Pardot includes several automation tools which help your team including Automation Rules and Segmentation Rules which automate field value changes, facilitate Lead grading and assignment, and list membership. Page Actions enable automations based on specific pages having been visited, and Completion Actions provide action-based automations from email engagement, form submissions, file downloads and link clicks.
Marketing Assets - To streamline the build of campaigns, Pardot enables you to design elements such as images, and downloadable files such as fact sheets and pdfs for use in your emails, landing pages and your own website. What's more, you can track who downloaded the assets and even apply automations to change their Prospect Score or send them to sales.
Social Posting - Pardot also includes a social media posting tool, so that marketers can post to Facebook, Twitter and LinkedIn directly from Pardot, using automatically tracked links to give visibility of which prospects engage with specific posts.
Is Pardot right for my Business?
Whilst Pardot was originally designed and targeted at the SMB market, in recent years, the tool has grown and had several enhancements to enable it to be a full solution for marketing communications and compete at the enterprise level. Here are some indicators that you should consider exploring Pardot:
B2B organisations - There are a handful of customers using Pardot for B2C applications, but Pardot's features around nurturing and intelligent Lead routing much better fit a B2B use case.
Those who need better alignment between Sales & Marketing - Pardot is an ideal solution to empower Sales teams to have the right conversations with potential customers at the right time. Sales Users will also love the abilities included with Salesforce Engage, including 1-to-1 tracked emails and real time alerts for Leads.
Long sales cycles / Complex Sales processes - Pardot is generally better aligned to organisations which have higher thresholds for Lead qualification, such as companies with slow or complex sales cycles. This makes the most of Pardot's capabilities to convert a website visitor to an Identified Prospect, then gather more information about the Prospect through Progressive Profiling, which feeds into your scoring and grading setup to effectively pass highly qualified Leads to Sales departments.
What alternatives are there to Pardot?
There's no shortage of competing products in the Marketing automation space, however some of the most common alternatives to Pardot are:
Eloqua offers a higher degree of complexity and flexibility compared to Pardot. It also benefits from more comprehensive Landing Page and Microsite functionality. The platform better fits B2B enterprise clients with higher implementation and support budgets. It does come at a higher price tag - so it's a careful decision to make as to whether the greatly increased cost is worthwhile for a relatively few extra capabilities.
It's not the biggest piece of the puzzle, but an often-heard complaint about Marketo is that it feels like a step back from Pardot in terms of user interface. That being said, Marketo's reporting tools have been seen as superior to Pardot, however the gap is closing thanks to Pardot's B2B Marketing Analytics, an Einstein Analytics app for B2B Marketing. Both systems offer strong email marketing capabilities
Salesforce's own Marketing Cloud solution, whilst typically geared towards the Enterprise B2C / Ecommerce space, can also be used in a B2B context. Both Marketing Cloud and Pardot can be used in the same organisations too, either in different divisions of the same business, or as part of one overall "Lead to life" process, whereby Pardot handles Lead Acquisition, Nurturing, Scoring and Assignment, and Marketing Cloud takes over the multichannel customer journey and notifications for existing clients. Marketing Cloud is overall seen as a more functionally rich, yet costlier solution, with a greater overhead in terms of technical setup and maintenance.
Another B2B SMB tool is Hubspot. Comparatively, Hubspot offers lower pricing and a free, bundled CRM platform. Hubspot also offers a CMS tool to host a full website rather than Pardot's offering of campaign-specific landing pages. Pardot is better aligned to organisations already using Sales Cloud, whereas Hubspot is a cheaper option for smaller companies looking to avoid the Salesforce stack altogether.
Further reading and resources